7 STYLE TIPS THAT EVERY MAN NEEDS TO KNOW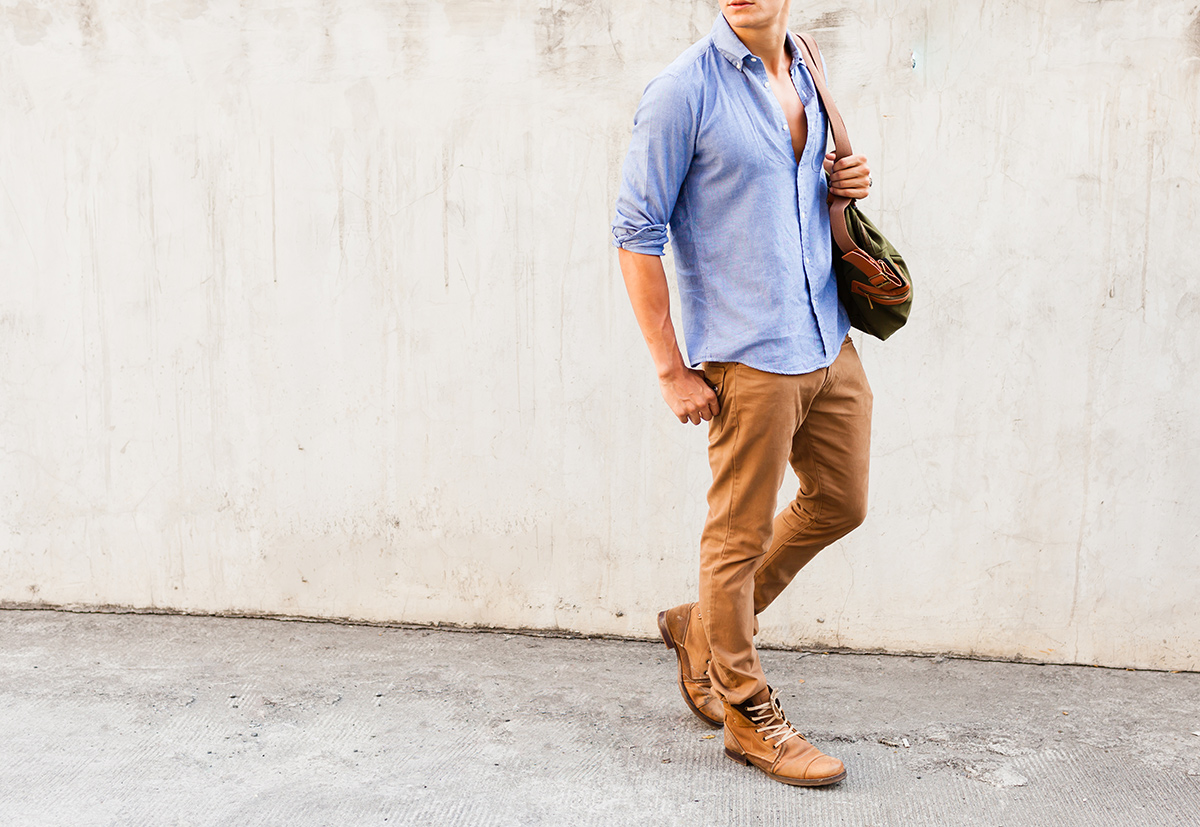 7 STYLE TIPS THAT EVERY MAN NEEDS TO KNOW
With more clothing brands, styles, and choices than ever before, navigating the often-confusing world of men's fashion can be tough. Coupled with an ever-growing list of fashion dos and dont's, it's easy to forget that fashion is supposed to be a fun and liberating mode of expression. And that's what we aim to reinstate.

Style is an expression of who we are and who we want to be. And, as our lives develop, our interaction with fashion and style develops as well. We want to know how to dress for that new job, or for that special occasion while maintaining our personal style. Clothes say so much, so you want to make sure your clothes are giving the right impression.
To demystify all of the ins and outs of men's fashion, we've compiled the best style tips from our favourite fashion bloggers that every male needs to know.
GETTING THE PROPORTIONS RIGHT
"Proportions are key to an outfit looking its best on you. If a jacket is too short it will visually make you look like you have a small torso and vice-versa with pants.â€
Jared Acquaro, A Poor Man's Millions
Proportions are often underrated, but they are the difference between a good outfit and a great outfit. Whether it be buying a button-up shirt that is too long to be kept untucked, or buying the wrong size jacket, if part of your ensemble doesn't reflect the natural proportions of your body, the outfit will look like it is wearing you. If you have long legs and a shorter torso, you can use a longer jacket to create balance between your upper and lower body. The aim is to emphasise your best features and not leave them covered up in ill-fitting clothes.
EMBRACING SOME QUIRKY DETAILS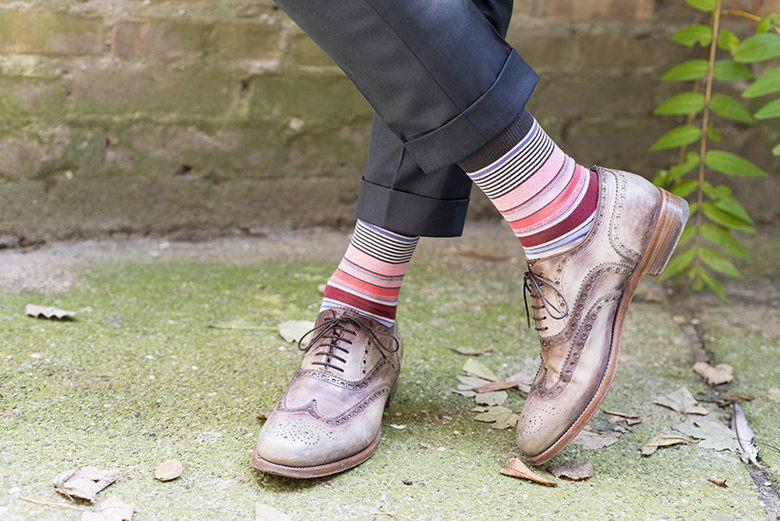 "Be different. Throw on a pair of coloured socks when rocking short cut pants. It'll give your outfit that little kick that'll set yours apart from the rest.â€
Elias El-Indari, SMF
It's all about the little details. If you don't want to blend into the crowd, mix up your wardrobe with quirky accessories that reflect your personality. Colourful socks and zany cufflinks add a touch of quirk to any outfit and act as a great conversation starter.
"First impressions aren't everything, but they definitely count.â€
Marco Volpato, Mr Volpato
ALWAYS PUTTING YOUR BEST FOOT FORWARD
We are all about not judging a book by its cover, but unfortunately, if the cover doesn't look interesting, we can't help but place it back onto the shelf. Clothing can never fully capture how intrinsically unique each of us is, but it doesn't mean that we should just ignore what we wear. Appearances play a large part in how you are perceived in the workplace and in your social circles, so your outward appearance should be an accurate reflection of the person behind it. We wouldn't dream of donning jersey slacks and an old, ripped band shirt to a job interview, but putting in a bit of effort in your everyday life can mean the difference between a bad first impression and a good one.
"The best advice anyone can have is to not follow trends of others and buy the best you can afford.â€
Jared Acquaro, A Poor Man's Millions
STAY AWAY FROM TRENDS AND BUY WHAT IS BEST FOR YOU
We all know that trends come and go, but sometimes we fall into the trap of investing in trends without realising it. Mixing up your basic wardrobe with a trend here and there is fine, but filling your wardrobe with the latest must-haves each season is expensive. Instead, invest in your basics and, as Jared Acquaro suggests, "buy the best you can affordâ€. If you have a limited budget, don't buy $400 pair of jeans. Pace yourself and never spend above your means. But, if you can afford a pair of $200 jeans that will last years, invest.
PAY ATTENTION TO DIFFERENT FABRICS
"When thinking about what makes the ultimate shirt, the first things that come to my mind are: quality materials, quality craftsmanship and a high attention to detail.â€
Paul Juchima, No Paparazzi Man
Shirts are often more important than suit jackets, particularly in summer. But finding a well-fitted shirt can be quite challenging. You need to check the fabrication to make sure that it's a natural fibre (needed for breathability), that the buttons are not only good quality but that they don't gape, and that the fabric skims along your natural contour. Quality shirts don't always have to come at a premium price though, so make sure to compare the fit of high-end shirts to your mid-range pieces. For pieces that you are going to wear to death, like a classic white button-up, buy multiples. But for trendy shirts, follow a cost-per-wear estimation to ascertain how much you are willing to pay for that specific piece that may only get a few wears.
INVEST IN A BRILLIANT SUIT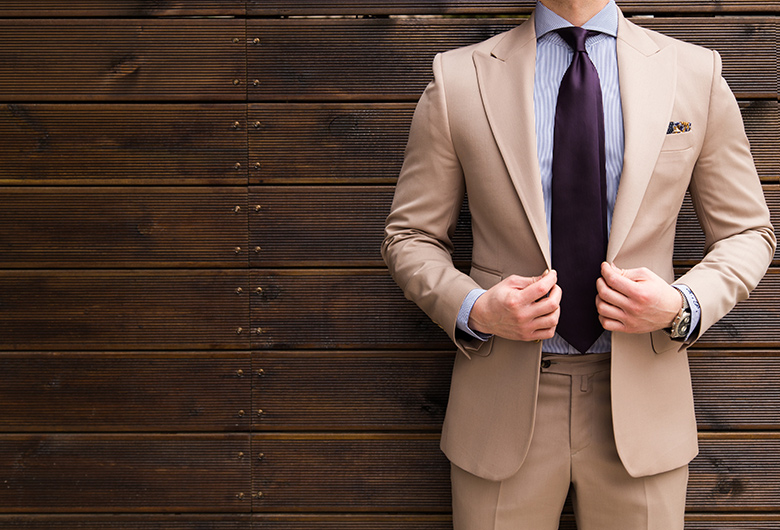 "When it comes to men's suits, understanding the keys of fit, fabric and silhouette are of utmost importance…â€
Benjamin Fitzgerald, D'Marge
Suits are the foundation of every professional man's wardrobe, and they come with a quality price tag. When you are investing in a new suit, or even your first professional suit, you need to understand what fit, fabric, and silhouette suits your body and your needs. If you are living in a warmer climate that rarely sees temperatures less than 20 degrees, opt for a lighter fabrication. However, if you live in Sydney or Melbourne, you should consider opting for a medium to heavy fabrication in your suits to accommodate for the ever-changing weather conditions.
Shop around and feel the difference between an expensive and an inexpensive suit. Neutral suits that will last you years are worth the investment, but if your line of work doesn't require a full suit, don't splurge too much on a suit that will just collect dust in your closet.
IT'S ALL ABOUT THE GROOMING
"Find a good barber and tailor, they will be your best friends for life!â€
Jared Acquaro, A Poor Man's Millions
Style is only partially made up of your clothing choices. Elements like your grooming practices and the fit of your clothes play a larger role in your appearance than we often give credit. We love how the blog A Poor Man's Millions shows that you don't need to spend millions to look it. It's the small details that make a mid-range shirt or suit look expensive; such as custom tailoring. No matter if a suit cost you $100 or $1000, if you've had it expertly tailored to your measurements, it'll look like it was a custom suit to begin with.
The same is true for grooming. If your hair and facial hair are kept fresh and tidy, your clothes will merely polish off your already well-groomed appearance.
By following these simple tips and filtering out the endless fashion rules, you can simplify your daily clothing decisions while looking your very best.