HOW TO FIND THE RIGHT WEDDING DRESS FOR YOUR BODY TYPE (AND ALTER IT TO PERFECTION)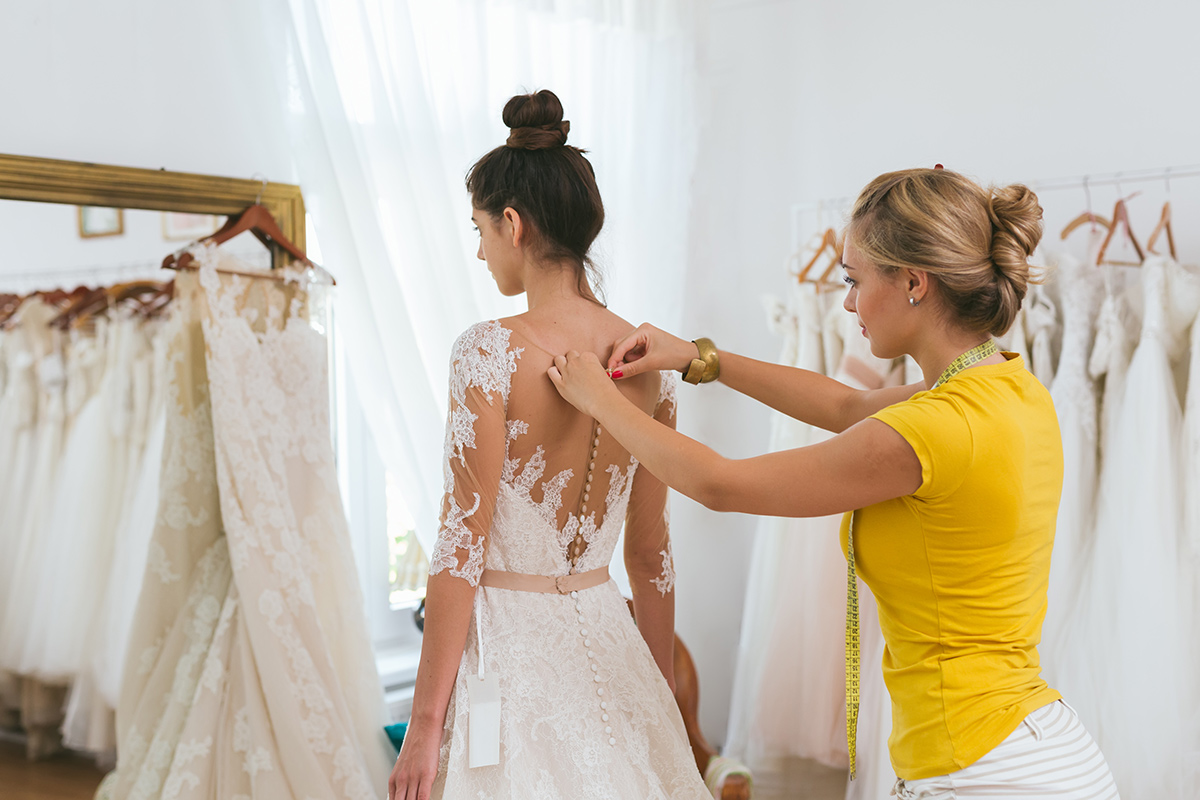 HOW TO FIND THE RIGHT WEDDING DRESS FOR YOUR BODY TYPE (AND ALTER IT TO PERFECTION)
Wedding gown shopping can be overwhelming for future brides, especially when you're not sure where to start. Wedding dresses are big business, and as such, there are literally endless designers, shapes and styles to choose from. One way to make this huge world feel smaller is to consider your individual body type, and then work from there in your search.

Considering your body type takes the guess work out of the endless rows of lace, trains and tulle. It allows you to stay open minded, but also realistic. Most brides end up choosing a different dress to what they had originally envisioned, so try not to get too caught up on what it is you 'think' you want. It's not until you try your dress on that you'll know whether it's right for you.
If, however, you're certain of the type of dress you want, you may want to consider having it altered to further suit your body. Alterations allow you to purchase the exact dress you want before molding it to your body type. This approach won't work with all wedding dresses, but most can be adjusted, whether you're busty, broad, pear-shaped, full-figured, petite, boxy, tall or short. Just be sure to check before you buy. Many designers offer 'hollow to hem' options so that the hem and proportion of dress, especially those with lace or embellishment on the skirt, are scaled proportionately to the bride.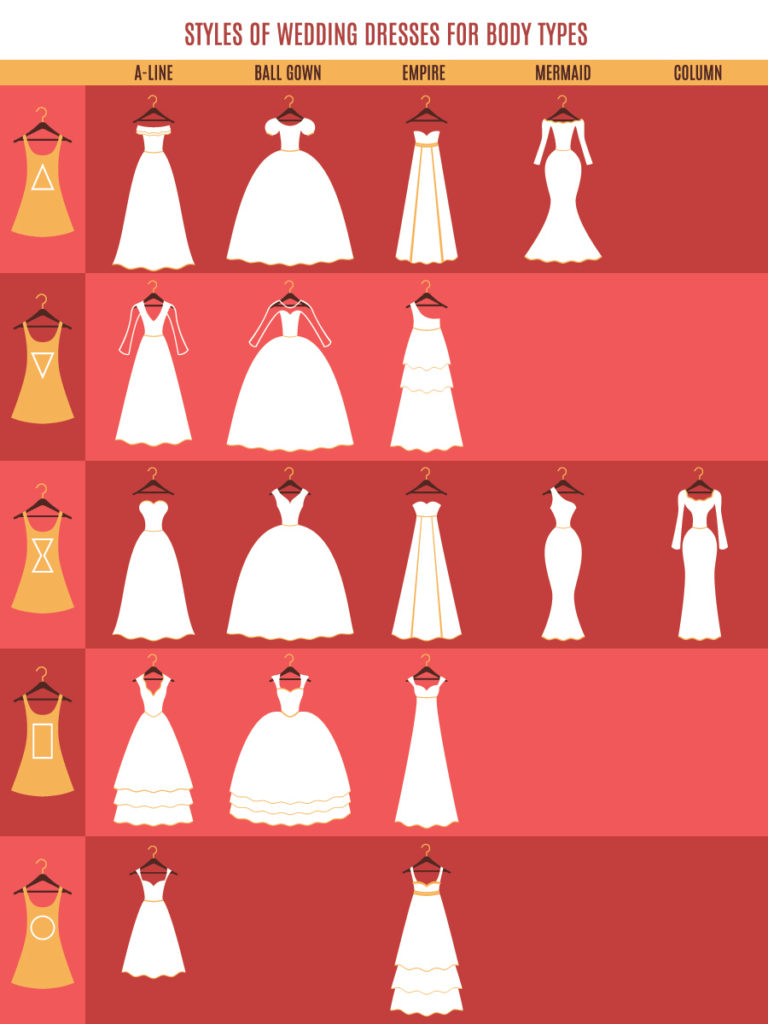 IF YOU'RE BUSTY
If you've got a large bust, you'll want to minimise your curves by balancing your top with a full skirt. Start with an uplifting foundation garment such as a good bra or corset, and check that the dress isn't too revealing. Your wedding guests should be focusing on your face, not what's spilling out of your dress!
IF YOU'RE BROAD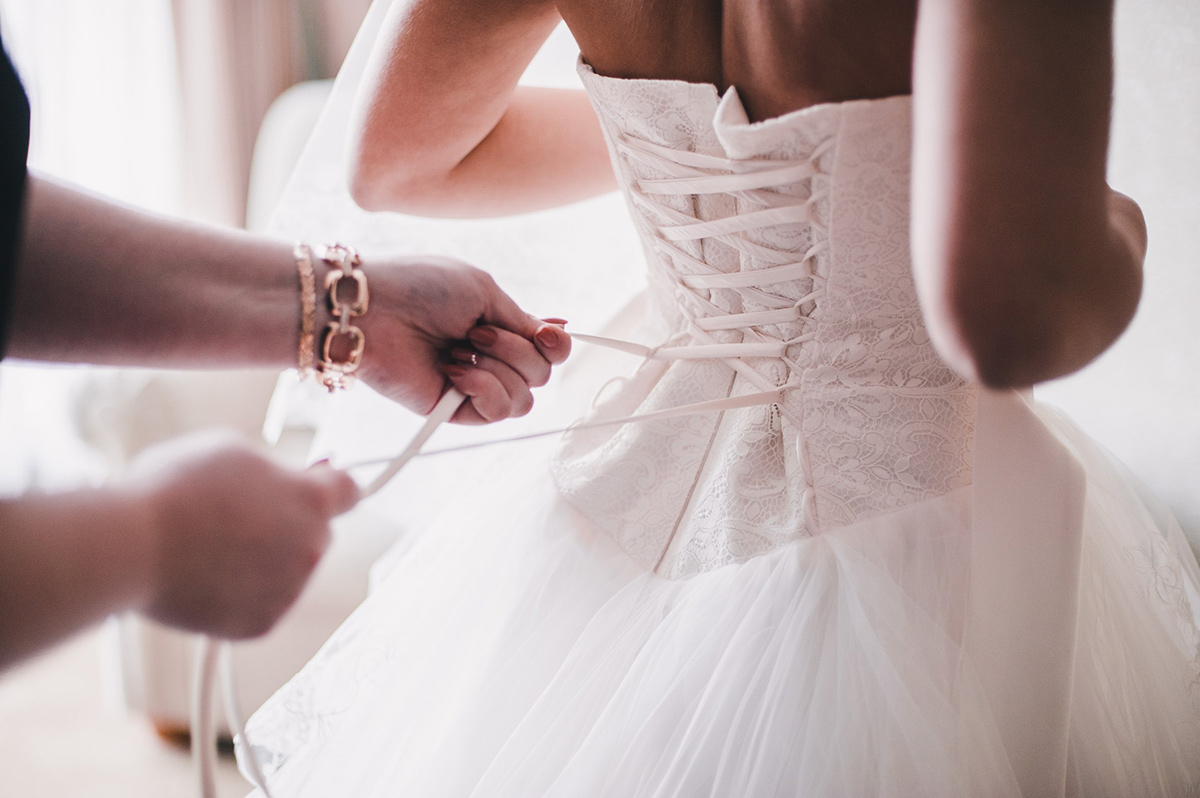 To offset your broad shoulders, choose a dress with a bodice that highlights your waistline. Concealing your shoulders is not recommended, as it will take away from your hourglass figure. Show off your broad shoulders with a halterneck, or go for drama with long sleeves worn off the shoulders.
IF YOU'RE BOXY
Empire waist gowns are born with boxy women in mind. Cinching at the narrow point just below the bust, empire waist gowns create the illusion of height and curves. Great for short women too, and the ideal wedding gown when pregnant.
IF YOU'RE PEAR-SHAPED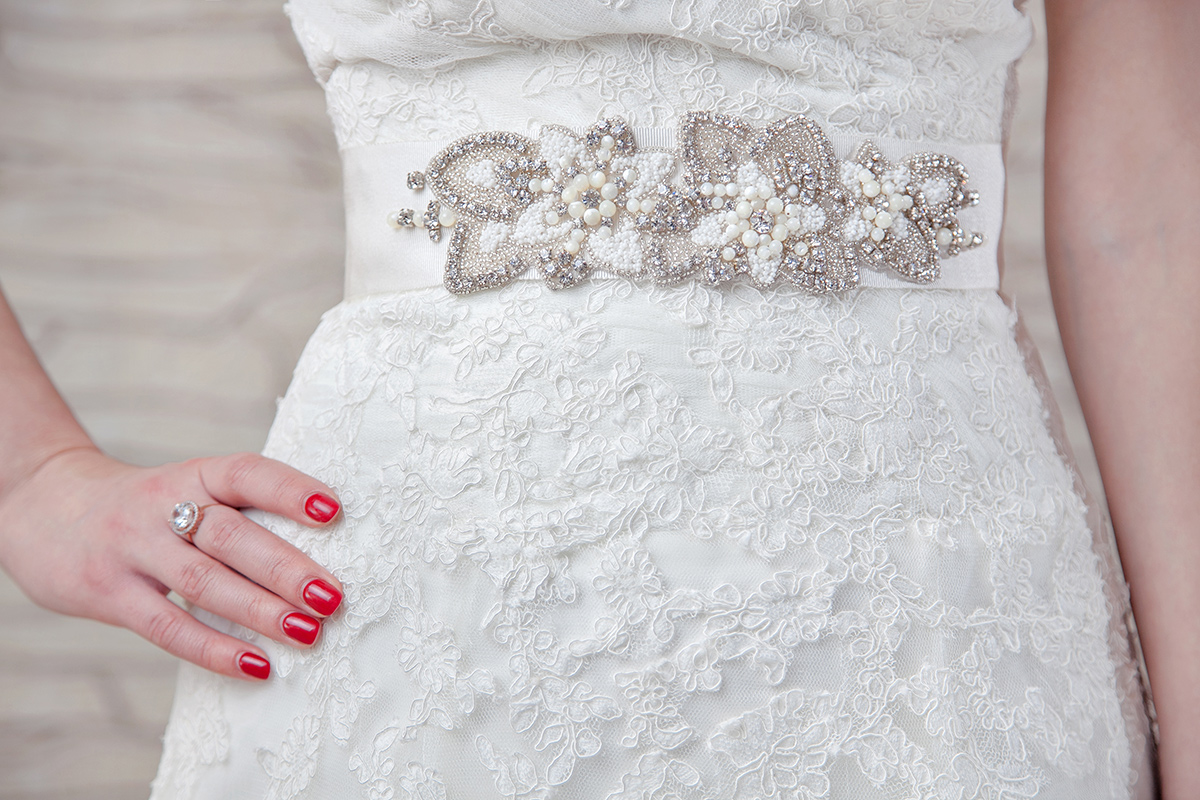 A strapless gown or a dropped waist will put more emphasis on your top. Avoid V-neck, as this will draw the eye down. A-line dresses with an empire or natural waist are ideal, as are dresses with diagonal draping. Consider accessorising with a grosgrain or embellished belt, or choose an interesting bodice with artful beading, ruching, or other textural elements.
IF YOU'RE FULL-FIGURED
If you're fuller-figured, you might want your dress to have a slightly slimming effect – a high-waisted, low-neckline, curve complementing, not-too-clingy design. Avoid spaghetti straps as they won't offer the support you need. A mermaid or trumpet-style gown is ideal, or a goddess gown that focuses on the fit – snug under the bust, then gently skimming the body.
IF YOU'RE SHORT
Floaty goddess dresses with unbroken lines that elongate your frame are ideal when you're short. Look for a chiffon A-line sheath with floral detail, or a trumpet skirt that offers a continuous line for added height. A high satin band will stretch your stature even further, while a toga gown with a raised waist will create a long, lean line. A beaded strap will draw the eye up.
IF YOU'RE TALL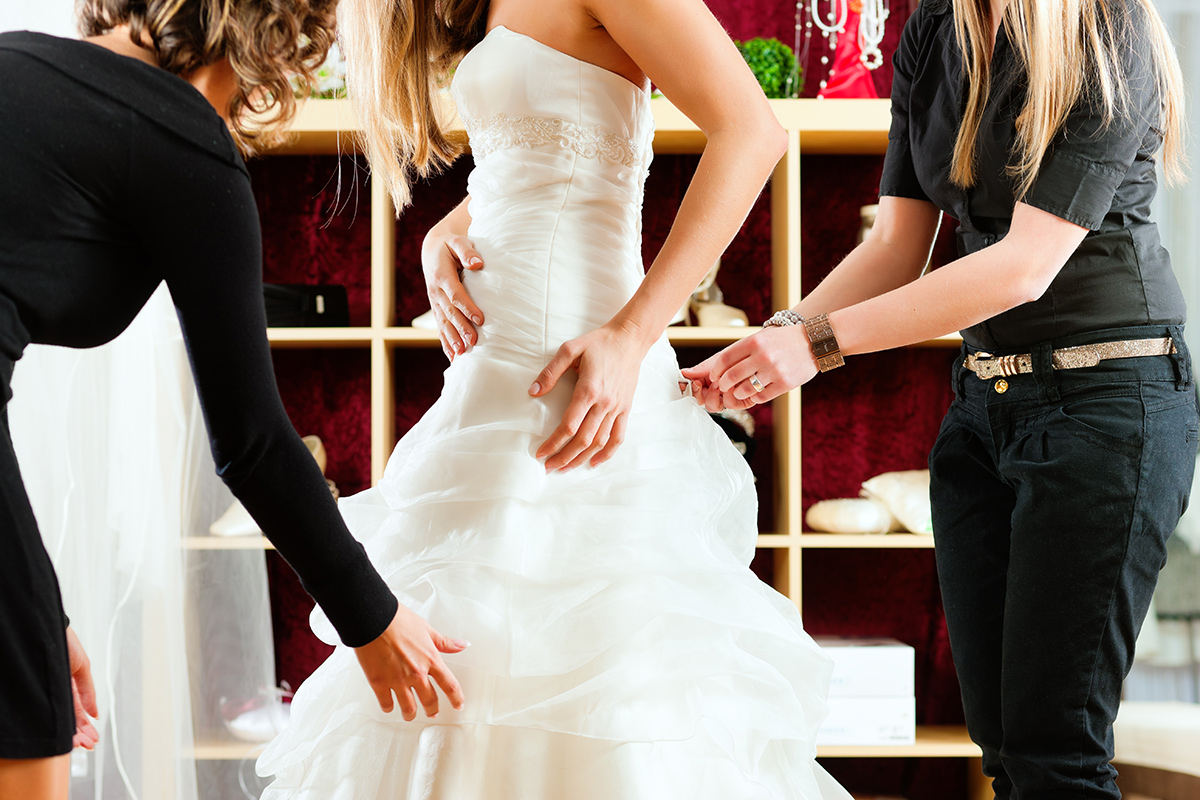 It's great to show off a tall frame, but if you want to tone it down a notch, avoid high necklines that draw the eye up to create more length. For this same reason, avoid updos and headpieces that add extra height.
Taller women look great in almost anything, and are one of the lucky ones that can pull of a full-length veil.
WORKING WITH YOUR OWN BEAUTIFUL BODY SHAPE
As well as body type, consider any hangups or favourite parts of your body. Scroll through your most recent pictures and locate the areas you're most critical of. If, for example, you think your arms are too heavy, jiggly or skinny, look for a dress with three-quarter-length sleeves in a sheer illusion fabric. Steer clear of off-the-shoulder styles and cap sleeves, which will highlight the upper arms.
If you're rocking a back tattoo that's nothing short of a masterpiece, choose a lovely low back and consult with a dressmaker about how you can best show it off. If you're wanting to hide your tattoos, a bolero could be the answer. Remember, this is your day, and instead of following the current fashion trends, it's best to choose whatever suits you and your own tastes.
EMBRACING THE NATURAL YOU
Today's bride is varied, meaning designers must consider all factors that encompass Australian women. Body shape, height, background and style must be considered and designs created to match. The idea is to highlight and accentuate every individual bride so that they can look and feel their best on their special day. Nothing else will do!
When shopping for a wedding dress, don't just stop at the first dress you see. Shop around, and when you've fallen in love with your gown, pop in to a Looksmart Alterations store to have it altered to perfectly complement your individual shape.