20 AUSTRALIAN FASHION BLOGGERS YOU SHOULD BE FOLLOWING
Whether or not you're keeping up with Kardashians, we all want to be presentable in our social and professional lives. Fortunately, that doesn't necessarily entail sitting through mind-numbing American reality television in order to keep up with the latest trends. With the wired, uber-connected world we live in today, information and styles travel faster than ever. Fashion trends are born every minute, while last year's' catalogue becomes dated.
With that in mind, one of the best ways to stay ahead of current trends is through the Internet. Fashion bloggers are plugged into what's new and hot, and those with tons of followers are hold a cache amongst their fans that allows them to influence new trends.
But while Milan, Paris, and New York are showing off their autumn and winter catalogues, Australia is preparing for a long, hot summer. Don't let this hemispheric disunity dissuade you: these carefully chosen bloggers are locally-grown, so they'll make choosing an eye-catching and weather-appropriate outfit that much easier.
FEMALE FASHION BLOGGERS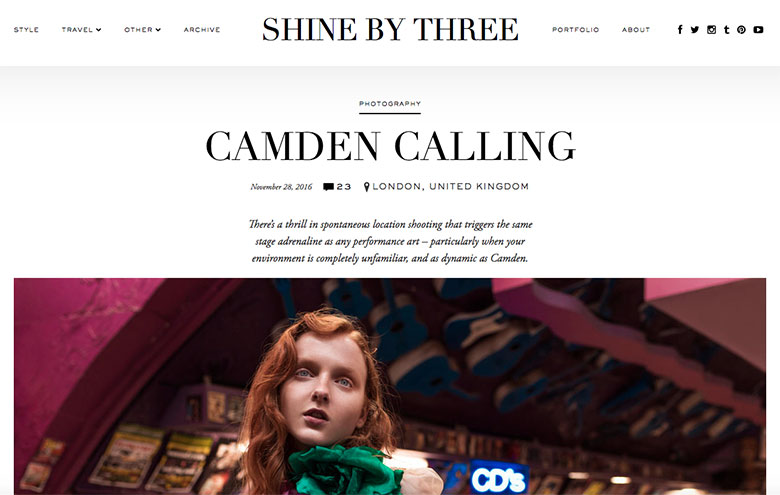 The hard-working, twenty something daughter of Chinese immigrants to the continent makes ample time to provide content for her hundreds of thousands of followers. Starting out a vanity project as a 16 year old, this bi-lingual student almost stumbled upon her success as one of the country's most influential fashion bloggers. How did she get so famous? Slowly, she gained followers on her blog, Shine by Three, who were simply taken with her fashion sensibility, which includes covering her head with cool hats.
We recommend reading: Flower Power for advice on how even tomboys can pull off floral patterns.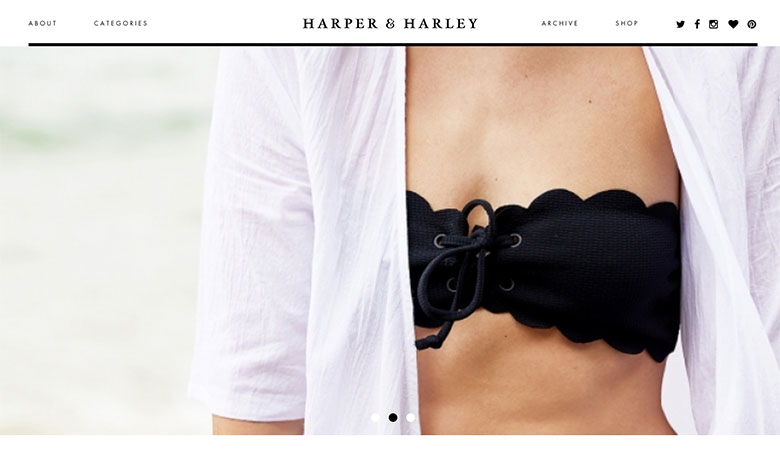 Harper and Harley, the name of successful fashionista Sarah Donaldson's blog, is an ode to effortless beauty as expressed through colours that aren't splashy, and tailoring that isn't pretentious. Ms. Donaldson has carved a niche in this 'less is more' space, typically sticking to pastels and simple styles that just work. She's accumulated enough fame that she was able to star on the reality series 'Fashion Bloggers,' and even boasts her own shoe line with popular online retailer Tony Bianco. The future holds great things for Sarah as a rising star in the Australian fashion landscape.
We recommend reading:Â Trend Alert: Rouching, to learn all about the new fashion trend taking the world by storm.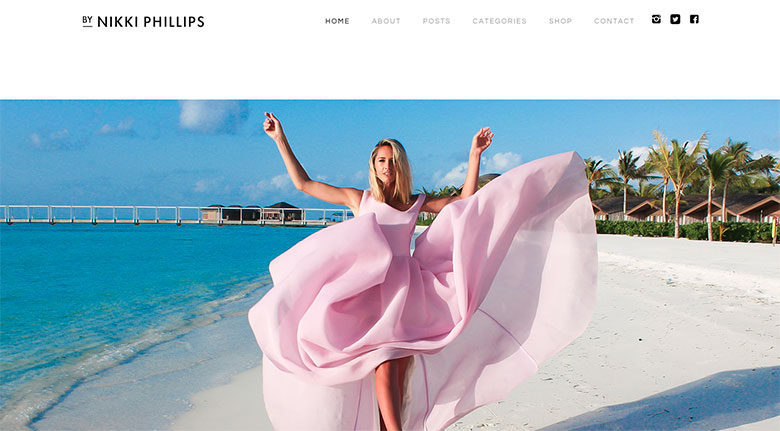 The creative tour de force behind the eponymous 'Styled by Phillips' is none other than Nikki Phillips. However, you would be hard pressed to corner her into the mere role of blogger, because she has her hands in many other pies like styling, presenting, and even modelling. The talent on display is immediately apparent: this prototypically tall, slender blonde beauty loves airy, sun-splotched, colourful summer dresses just as much as chic, form-fitting business blouses, only to surprise you with a Brooklyn-inspired look of ripped slim jeans matched with a one-size-too-large, monochromatic jacket emblazoned with Chinese characters. The word 'eclectic' certainly comes to mind when it comes to Ms. Phillips' pioneering ensemble.
We recommend reading: Swimsuit Guide for tips on how to choose the right swimwear for your body type.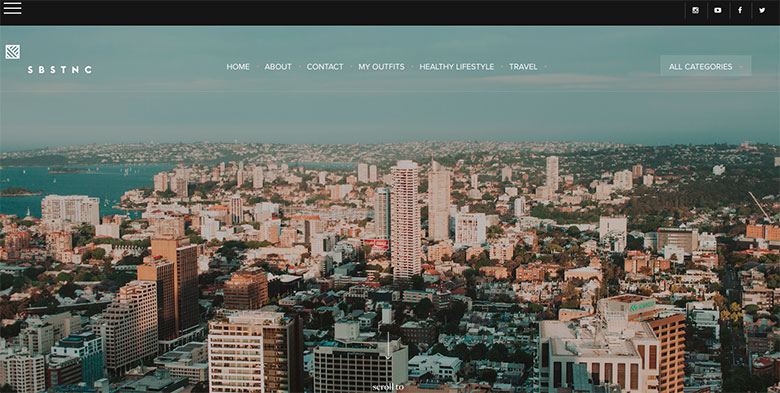 Ally Carey has defined her niche in the crowded world of Aussie fashion through a simple mantra: fashion meets fitness. This is evident through her simple, yet attractive pairing of a large, white Adidas tee (with the old-school plant shaped emblem printed across the front) with ankle high black slacks that would not look out of place in a sky-scraping Melbourne office building. Meanwhile, the Gucci handbag brings it all together in a truly diverse melange of sensibilities.
Another sign of her fitspo tendencies? Her blog posts on how-to fitness lifestyle, like her 'how to find 5 minutes a day to complete this workout' post at the top of her blog. With a niche like this, refined and functional, it isn't hard to see how success has come by Ally and her blog, Substance.
We recommend reading: 6 Tips To Make Living Out of a Suitcase Easy for advice on how to keep stylish while travelling or moving.
It would be an incomplete list without at least mentioning Gary Pepper Girl, one of the most visible examples of Australian fashion blogging done right. Ms. Warne's popularity comes by virtue of spectacularly-shot content featuring some of the most premium brand names in the industry: Chanel, Valentino, L'Oreal Luxe, Dolce & Gabbana… the list goes on. This social media darling has reached the zenith of her industry's world, having been featured in magazines like Business of Fashion, Forbes' 30 Under 30 list, and Porter Magazine for being among '50 Incredible Women' named.
It's hard to imagine humbler beginnings. What began in 2009 as a small eBay store with vintage women's clothing and accessories has ballooned into a full on fashion conglomerate. Her styles are reminiscent of bourgeois days gone by, with elegant shoulderless crimson svelte dresses and diamond-encrusted medallions pieced together into a luxury necklace. No doubt about it, Ms. Warne has found her niche among an elite readership who can't get enough.
We recommend reading: Summer Ready for tips on how to look after your skin during summer.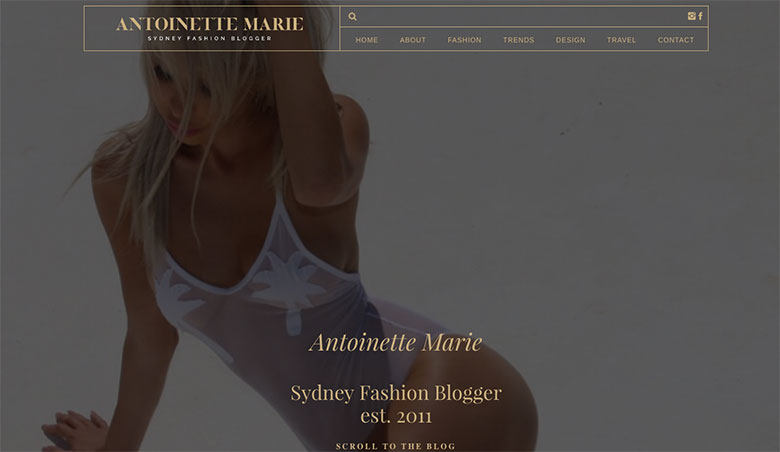 Author of Sydney Fashion Blogger Antoinette Marie has a genuine love of fashion, and regularly posts fun, relaxed and colourful posts. What began as a creative outlet for Antoinette quickly grew into an extremely popular blog with thousands of followers. The self-confessed shopaholic provides a unique and fresh take on current trends and only ever wears clothes that she feels resonate perfectly with her personal style.
We recommend reading: Electric Blue for inspiration on how to pull off a bright blue outfit.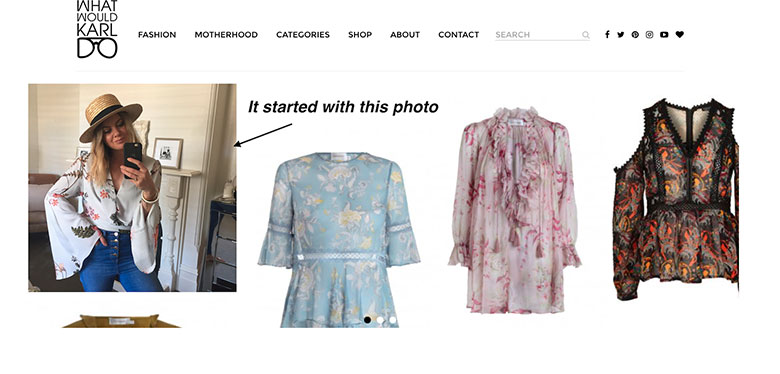 Former visual merchandiser and celebrity stylist Jess Dempsey is the founder of the fashion blog What Would Karl Do?, inspired by the one and only Karl Lagerfeld. Since 2010, when the blog began, Jess' followers have seen her through two pregnancies (and her killer maternity style), local and international fashion weeks, multiple campaigns, and ambassadorships with Australia's leading brands and designers.
We recommend reading: Do's and Don'ts of Racing Fashion on how to style yourself for the races.
8. ASHKA SHEN, XSSAT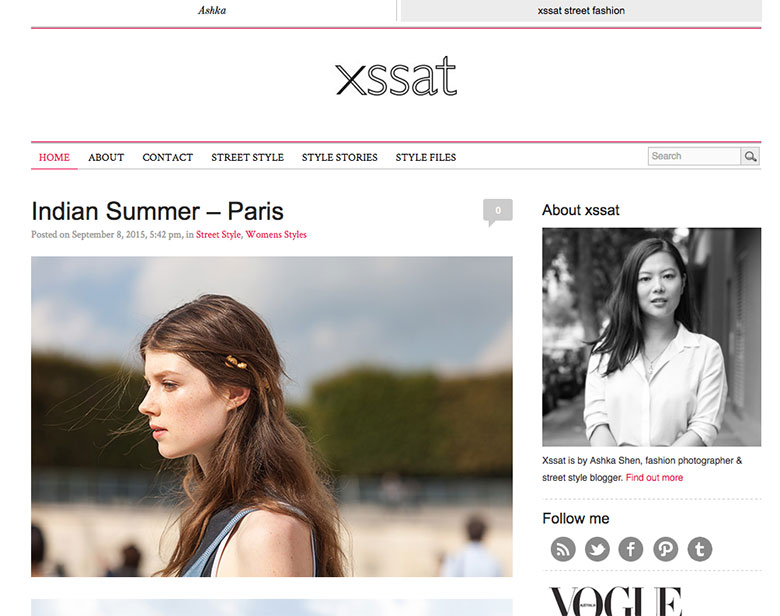 Ashka Shen is a fashion photographer and street style blogger. Ashka has shot worldwide, from London to New York to Paris, and her street style work has been featured in numerous international and Australian publications such as Vogue Australia, Elle Korea, Russh Australia, Singapore Today, Grazia Germany, Nylon Japan and Harper's Bazaar Australia. Her blog, xssat, was born out of her passion for photography and fashion all the way back in 2008 and has been popular among Australian fashionistas ever since.
We recommend reading: Style Stories for fashion inspiration from real everyday New Yorkers snapped on the streets.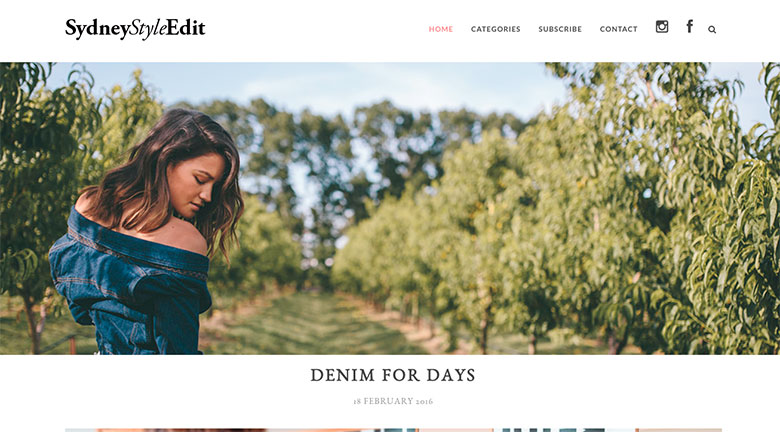 Kara Wilson works in the wardrobe department of the Nine Network Australia, where she has worked in a team of stylists to purchase, organise and style outfits for pre-recorded and live television shows as well as styling the Nine talent for promotional shoots. Kara began the women's fashion blog, Sydney Style Edit, in 2014, as a creative outlet for her work at Nine. Since then, the blog has expanded into fitness and editorials produced in collaboration with like-minded industry creatives.
We recommend reading: Denim For Days on how to style denim clothing.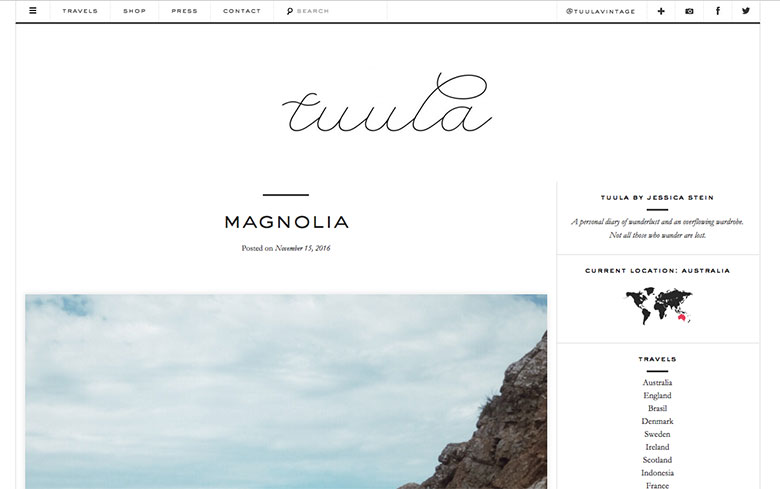 Jess Stein is the creative mastermind behind Tuula Vintage, an online fashion brand that originally started as a simple travel blog so her family and friends could keep up with her globe-trotting. It's now blossomed into a re-purposed vintage fashion mecca. Jess travels the world, combining her love for retro threads with her luxurious lifestyle and wanderlust desire to travel to beautiful and exotic locations. Jess won Cosmopolitan's 'Blogger of the Year' Award in 2012, and has collaborated with many global fashion designers, such as Faithfull The Label. With over 1.6 million followers on Instagram and a devout following of her blog (complete with stunning images taken by her many photographer friends), Jess is one of the most popular fashion bloggers in Australia.
We recommend reading: Faithfull Travels in Sri Lanka for stunning photos and eloquent words.
MALE FASHION BLOGGERS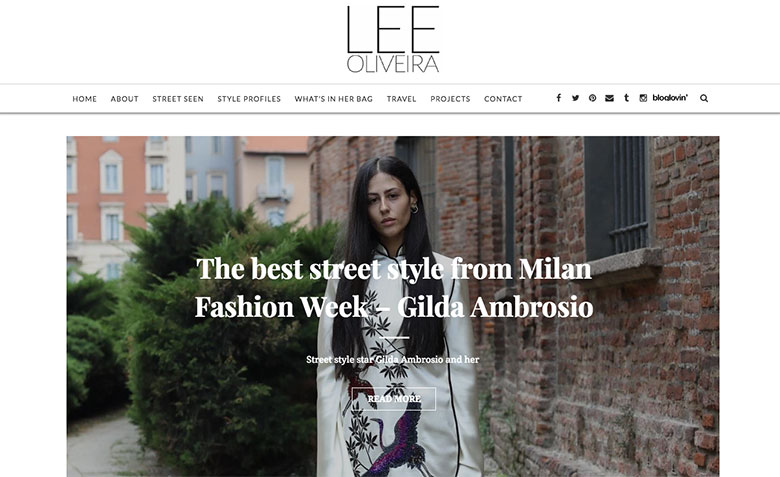 Lee Oliveira Media Group Australia was founded in 2010. Initially starting as a blog showcasing street style imagery from global fashion weeks, it has developed into a multi-faceted fashion business. Lee Oliveira has an eye for detail and has worked with major global brands including Valentino, Levis, Diesel and Sunglass Hut. He provides specialised consultation to individuals, designers, retailers and fashion brands, and was voted one the top influencers in street style by the Chicago Tribune.
We recommend reading: Diletta Bonaiuti: The Italian eye candy we want to copy today! for some Italian fashion inspiration.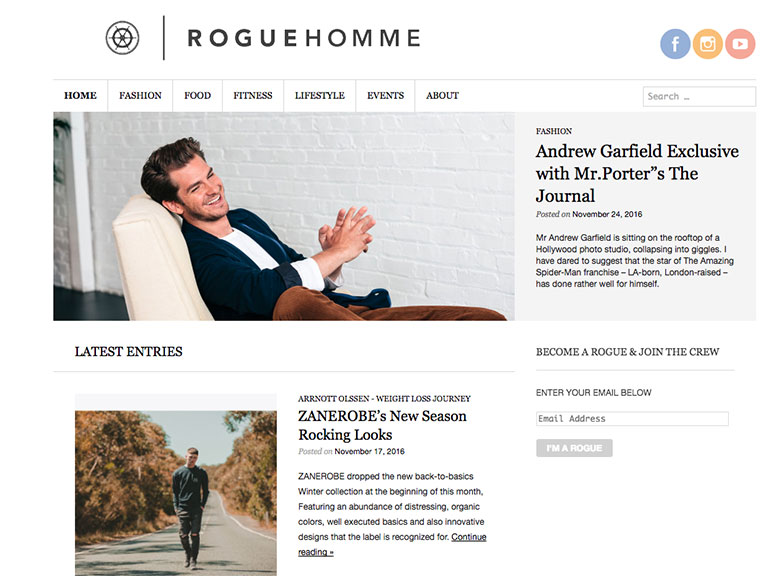 Arrnott Olssen is an accomplished music artist, fashion stylist and lifestyle commentator with a passion for style and fitness. He created Rogue Homme in 2012 with the aim of empowering the modern day gentleman to be confident and to lead the best life possible. This followed a change in his lifestyle in 2011 whereby he completely transformed his look through personal training and healthier eating habits.
We recommend reading: Fathers Day Gift Guide The Best Mix for clothing and accessory gift ideas for your stylish Dads, Uncles, and even Grandfathers.
3. ELIAS EL-INDARI, SMF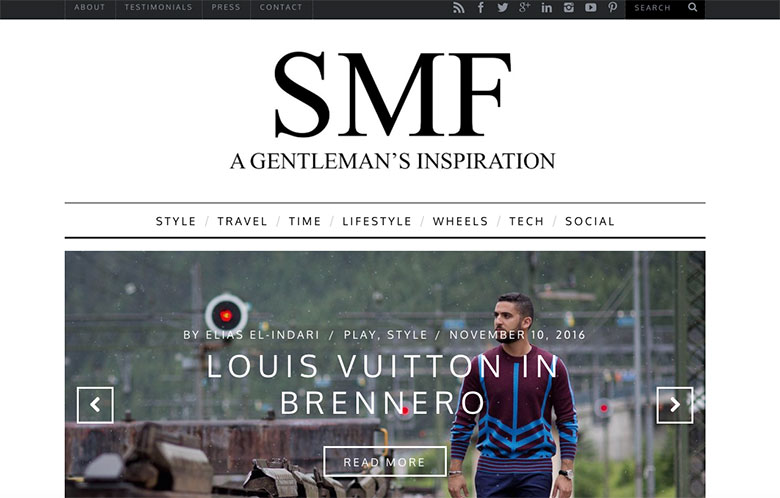 Elias El-indari spends a lot of his time travelling the world and has a keen interest in men's fashion and street style. He started the blog SMF in 2013 with the aim of providing fashion, travel and lifestyle inspiration for gentlemen. SMF has become the source of fashion and lifestyle advice for the modern day gentlemen and is now one of the most popular men's fashion blogs in the Middle East.
We recommend reading: Summer Colours With Eden Park for tips and inspiration on how to wear different colours in summer.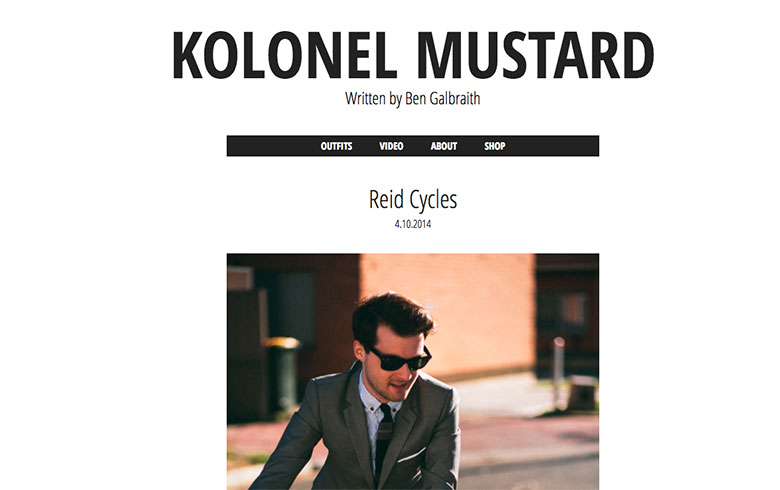 Benjamin Galbraith is a freelance set and costume designer from Adelaide, and founder of the blog Kolonel Mustard. His passion for art lead him into a career in theatre design and his interest in fashion was born out of the idea that first impressions are really important. He regularly wears suits and holds a belief that style can change one's life.
We recommend reading: I've Launched My Own Brand! to learn about Ben's fashion collection and how to style pieces from his collection.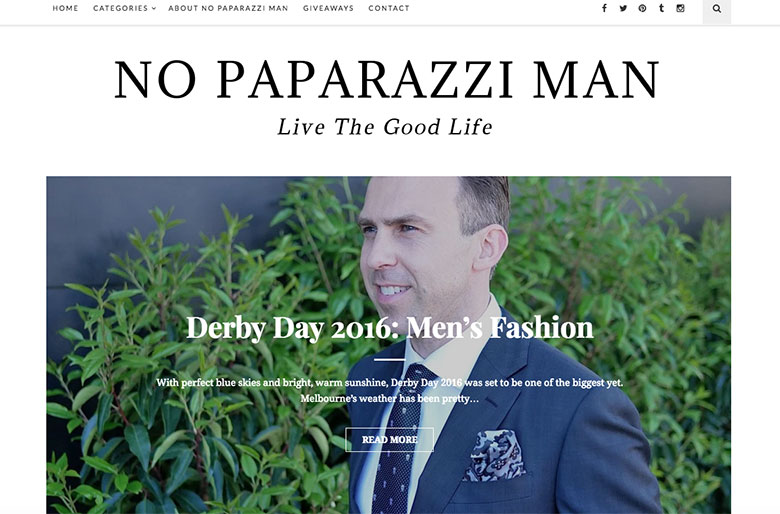 Paul Juchima is an investment banker, with a love of menswear, travel and living a positive lifestyle. He has been fortunate enough to live in Europe, and experience the culture of over 70 different countries. He began the blog No Paparazzi Man to help men who also aspire to live and healthy and happy lifestyle, by giving fashion, travel and general lifestyle tips.
We recommend reading: 4 Shoe Styles for Men this Spring/Summer 16 for the latest men's shoe trends to copy this summer.
6. MAX MCDOUGALL, MAXXIE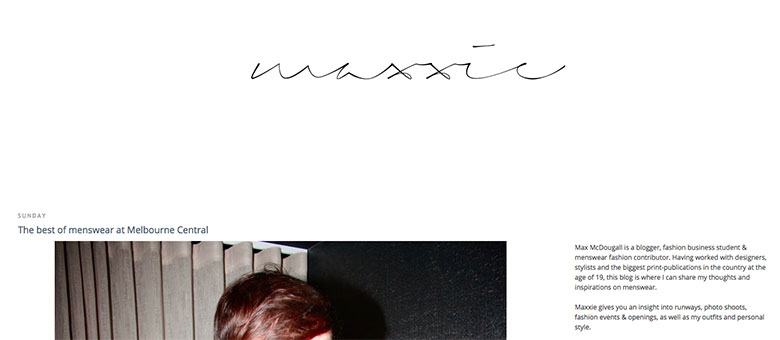 At the tender age of 19, Max McDougall had already worked with a number of Australian designers and stylists. He is a major contributor to men's lifestyle and fashion pieces in print publications throughout Australia, including as the menswear fashion contributor for the Melbourne Central Shopping Centre. Studying fashion business at Melbourne University, he enlists the help of his fashionista mates for photography duties, and shares his style thoughts and inspirations through highly visual forms on his blog, Maxxie.
We recommend reading: Trying Something New for young, fun beach images.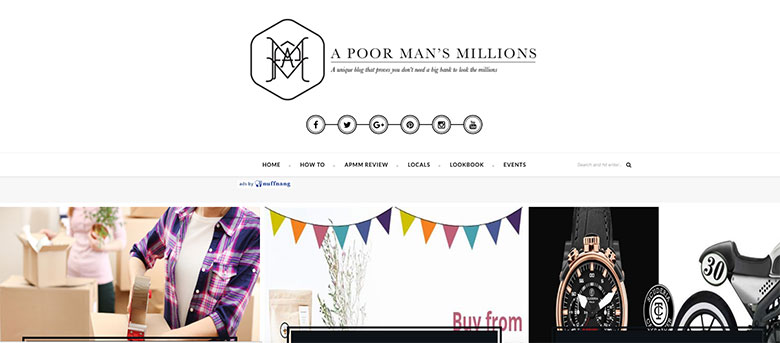 Jared Acquaro is a Melbourne style blogger who documents his musings on men's fashion and lifestyle on his blog, 'A Poor Man's Millions'. The blog focusses on the fact that you don't actually need a million bucks to look a million bucks, and it showcases different patterns, styles, fits, accessories and brands. Jared has worked with brands such as Tommy Luca, and is the Australian Menswear Ambassador for ASOS in Australia and New Zealand. His blog oozes sophisticated masculinity, representing his obsession with tailored menswear, and bringing together 'How To's' in regards to a number of fashion faux pas, as well as stunning imagery.
We recommend reading: Office Wear: How to Buy Right for You for office fashion tips.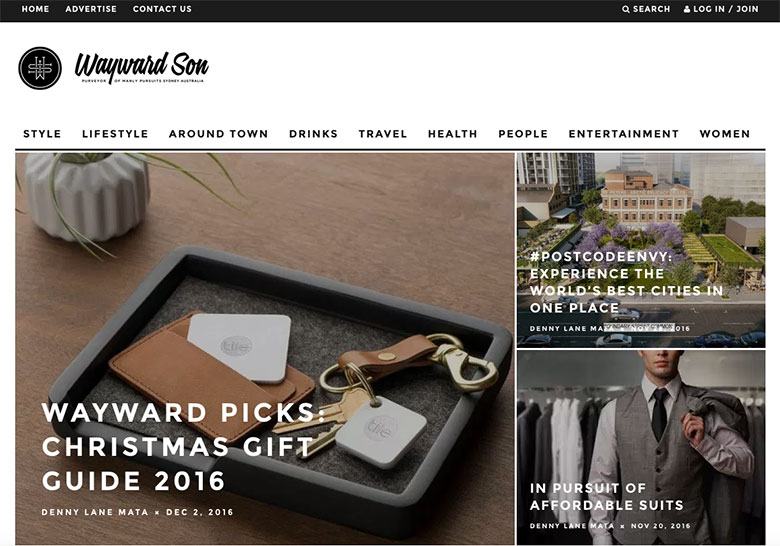 Gian Reyes is the founder of Australian men's lifestyle Bible 'Wayward Sons'. He worked in advertising and freelance journalism before delving into the online fashion world, creating a blog that covers everything from gadgets to cars, to women and fashion. The style section is very practical, aiming to guide Australia's men on how they can be the most stylish version of themselves, through topics such as 'How to Travel in Style' and 'Why You Should Ditch Leather Shoelaces'.
We recommend reading: Suiting Up on a Budget, for finding the perfect affordable suit.
9. MARCO VOLPATO, MR VOLPATO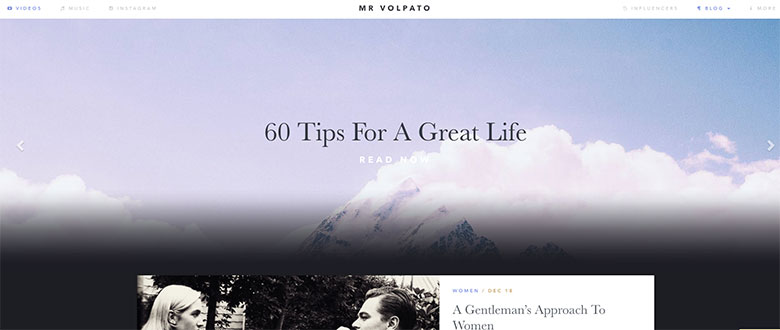 Marco, as well as being the CEO of MyPerks (an app offering 'perks' for the employees of the companies who are registered), started Mr. Volpato in the August of 2013. Labelled as 'Australia's No. 1 Gentlemen's Blog', Volpato fills the platform with luxurious imagery, practical advice and excellent writing. Whether it's rings, tassel loafers, ASOS cardigans or Italian suits and blazers, Mr. Volpato has got it covered, all with a charming, old-time style.
We recommend reading: 10 Simple Ways to Dress Better, because who doesn't want to learn how to do that?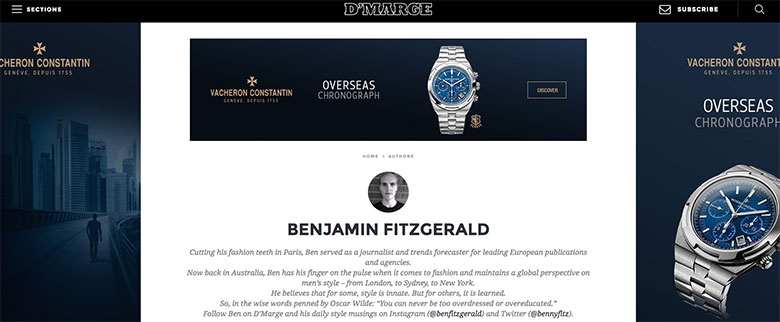 Last but definitely not least is Benjamin Fitzgerald, who is a leading contributor to the crazily popular D'Marge online fashion publication. Upon his return from working in Paris, where he was a journalist for leading European fashion publications, he now uses his global perspective to create unique and interesting fashion pieces for the D'Marge platform, spanning everything from t-shirts, trouser lengths, fragrances and office-approved jeans.
We recommend reading: How to Dress in Your 30s for age-appropriate style tips and advice.